For the week ending 24 December 2016 / 24 Kislev 5777
Noson Tzvi Brinn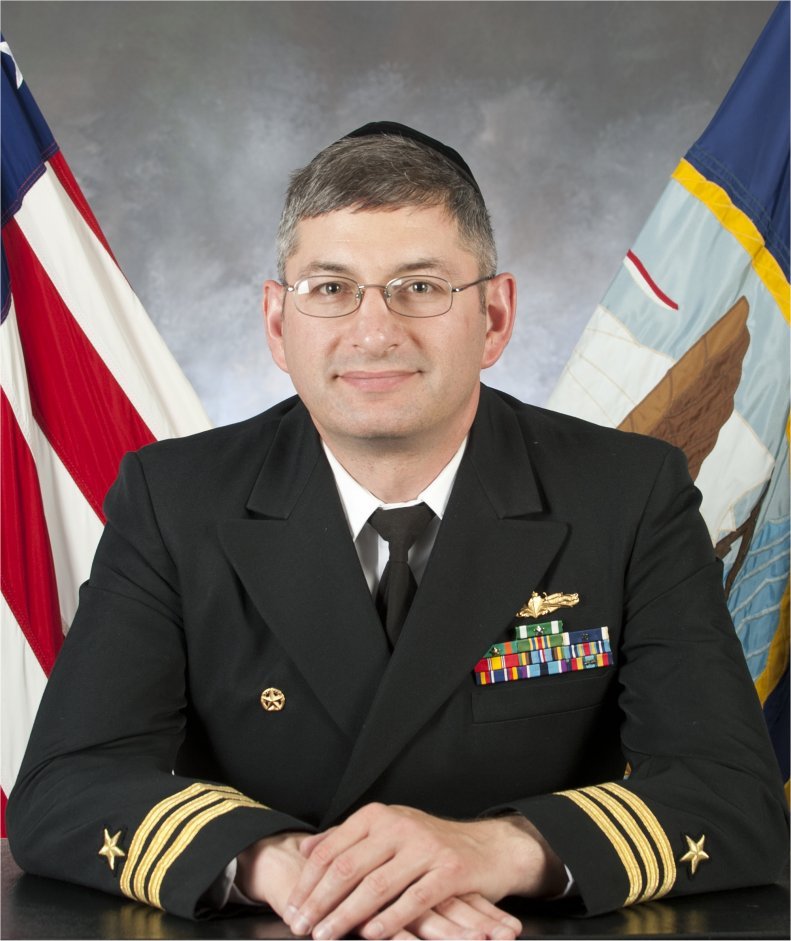 Noson Tzvi Brinn - 43
Huntington, New York
Cornell University, BS Computer Science 1996
Bryant University, MS Information Systems
Graduate of Surface Warfare Officer School
Engineering Instructor for Diesel Propulsion at Surface Warfare Officer School
Graduate of Naval Postgraduate School - Space Systems Certificate
Commanding Officer, USS Carter Hall
Center Program – Ohr Somayach Jerusalem
There is no uniform more handsome than the "dress whites" of a US Navy officer. At least, that's what Neal Brinn thought while sitting in his guidance counselor's office as a senior at Walt Whitman High School in Huntington, Long Island, New York. He had just been accepted to Cornell, one of the Ivy League schools in New York. Unfortunately, his parents could not afford to pay the high priced tuition. Neal needed a scholarship. The guidance counselor suggested that he join ROTC — the Reserve Officer Training Corps, in which college students agree to attend military-oriented classes, receiving military training during their college years, and, upon graduation, are awarded a commission as an officer. They are expected to serve a certain number of years of active duty in one of the service branches. In return, the students receive a full scholarship for university.
That morning was the first time that Neal had considered the idea of joining ROTC. When the guidance counselor asked which branch of the armed services he would prefer, he asked her to Google the uniforms for the different branches. He chose Navy.
He majored in computer science, and in addition to his academic workload for his degree he also took classes in Mathematics, Physics, National Security Policy, American Military Affairs, Naval Science and Naval Engineering. Each summer he attended a four to six-week training session. Neal graduated from Cornell with a BS in Computer Science and a commission as an ensign in the US Navy.
Of course, the Navy isn't all parades and "dress whites". It's a strenuous and disciplined life, but it appealed to him. After his mandated period of active duty, he re-enlisted and became a career officer. He started out his naval career as a communications officer, climbing through the ranks, and eventually became the Captain of the USS Carter Hall, a battleship with a crew of more than 300.
During the course of his career he was stationed in various bases that, in retrospect, he saw that the Hand of G-d had directed him to. One of the first stops was Newport, Rhode Island, the home of a large Naval base and the location of Touro Synagogue, the oldest shul in the United States. It was here that Noson Tzvi reconnected with his Jewish roots. In another post, at the Naval base in Norfolk, Virginia, Neal became seriously involved with a traditional synagogue, serving as President of the congregation. Through Chabad in Alexandria, Virginia he began to understand the nature of mitzvot and became more observant. Neal became Noson Tzvi and was introduced to the "waters of Torah".
Rabbi Gershon Litt, an Ohr Somayach graduate and the Executive Director of the Norfolk Kollel, had a major influence on Noson Tzvi. With the encouragement of his wife, Noson Tzvi decided to take an early retirement from the Navy to move to Israel with his young family and learn Torah. Rabbi Litt contacted Rabbi Saul Mandel, and today Commander Noson Tzvi Brinn is studying seriously in the Center Program at Ohr Somayach, learning to navigate the "Sea of Talmud".